Rob Hoffman is the Founder and CEO of Become A Better Trader, Inc. As a Champion Trader, frequent speaker for the major financial exchanges, skilled educator and passionate mentor to tens of thousands of students from around the world, and an International Trading Champion, Rob has seen it all.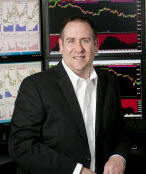 Rob Hoffman Trader and
Become A Better Trader Inc
. provide must-have educational resources in the area of Futures, Forex, Stocks, Options, and ETFs with a focus on both intraday and swing trading strategies for both short-term and long-term traders and investors.
Rob was an overachiever in college, graduating summa can laude and his commitment to high educational standards has carried over to his company as he strives for educational excellence each day in the real-world trading lessons he shares with his students.
Rob has made everything relating to his company, including the name Become A Better Trader, Inc. about his vision and goal of helping others learn about and develop skills to effectively trade the financial markets. He has also been an Affiliate Member of the Market Technicians Association (MTA) since 1998 because he believes in the importance of high quality and solid technical analysis in the industry.
Rob Hoffman is not just a trader. As an educator he continues to share his knowledge and experience with his students and Become A Better Trader, Inc. is built on the foundation of high quality education and superior customer service.  He offers premier services for traders at all levels, novice to institutional. Rob's goal every day is to provide the kind of education that he wishes he had as a new trader and to provide a community where traders can learn and grow together.
As an international guest speaker and frequent speaker for the major financial exchanges, Rob is one of the few traders in the business that has the real experiences and credentials to help you develop into the trader you want to be. Rob uses adult learning theory in his teaching and analysis to drive home key points and to help students understand how to identify high probability setups, overcome the fear of pulling the trigger, make the trade, and follow the trade through to completion with the skills and coolness of a true trader.
The crown jewel at BecomeABetterTrader.com is the unique Live Trading Room experience. It is designed to do one thing, teach traders everything Rob has learned over the years that helped him rise to the top of his profession as an International Trading Champion!  Each day in the Live Trading Room, Rob shares the very same strategies, techniques, and in-depth market analysis with his students that he himself uses as he trades his live accounts right before your eyes. Rob is known for only trading his real live account on the screen and sharing his trades from start to finish, something very few are willing to do.
In addition, to the Live Trading Room, Rob Hoffman Trader also publishes daily trading video newsletters that provide an insight into what is working for him right now in the markets and what he's looking for next from an intraday and swing trading perspective. These are critical resources to any trader looking to move to the next level in their trading career.
Learn what it takes from a trader's trader to rise through the various stages and mistakes of trading to come out the other end as an International Trading Champion! Learn from Rob Hoffman Trader and Educator.